One of my favorite long-running gags in the photography world is that, whenever someone wishes for an unrealistic lens, another photographer will chime in sarcastically asking for a lightweight 14-200mm f/2.8 with perfect optics, or something just as impossible.
Apparently Canon took that as a challenge. The newly released RF 24-105mm f/2.8 L is a huge jump in focal length over traditional 24-70mm f/2.8 lenses, and frankly has the wildest specs I've ever seen on a midrange zoom. Here's what we know about the Canon RF 24-105mm f/2.8 L so far.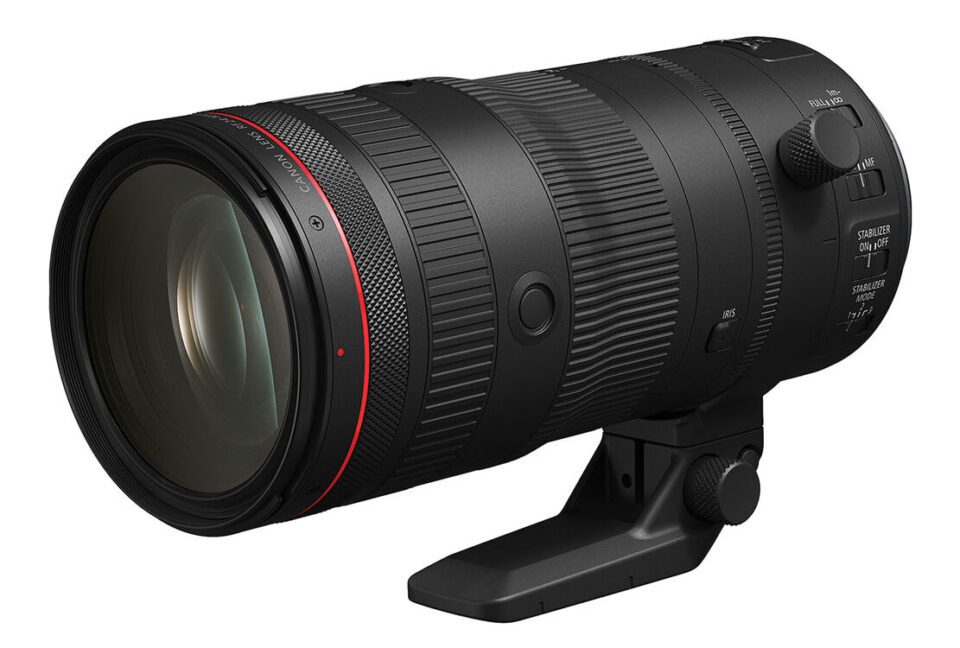 Specifications
Full Name: Canon RF 24-105mm f/2.8 L IS USM Z
Mount Type: Canon RF mount
Focal Length: 24-105mm (4.4x zoom)
Angle of View (Full Frame): 84° to 23°20′
Maximum Aperture: f/2.8
Minimum Aperture: f/22
Aperture Blades: 11, rounded
Filter Size: 82mm
Lens Elements: 23
Lens Groups: 18
Special Elements: 4 ultra-low dispersion and 3 aspherical
Anti-Reflection Coatings: Super spectra and air sphere
Fluorine Coated Front Element: Yes
Image Stabilization: Yes
Internal Focusing: Yes
Internal Zooming: Yes
Control Rings: Zoom, focus, aperture, custom
Function Button: 2, duplicating
Switches: AF-MF, focus distance limiter, iris lock, image stabilization, stabilizer mode
Tripod collar: Yes, removable
Focus Motor: Dual nano USM
Minimum Focus Distance: 45 cm (17.7 inches)
Maximum Magnification: 0.08× (1:12.5) at 24mm, 0.29× (1:3.4) at 105mm
Mount Material: Metal
Weather/Dust Sealing: Yes
Dimensions (Length × Diameter): 199 × 89 mm (7.8 × 3.5 inches)
Weight: 1300 g (2.9 lbs)
MSRP: $2999 (check availability)
My main takeaway is that this is Canon's first Z lens! All right, maybe not my main takeaway, but I did find that to be an amusing part of the lens's full name. In fact, the Z means that it's compatible with Canon's new PZ-E2 and PZ-E2B power zoom adapters (also announced today) to allow video users to zoom the lens more smoothly.
The real takeaway, though, is that this lens's features are completely nuts – in a good way. Canon has thrown all their technology at it, from their top coatings to dual nano USM focusing motors, 11 rounded aperture blades, an aperture ring, and extensive manual controls. It's a long and fairly heavy lens that even has an optional tripod foot.
Here are Canon's supplied MTF charts, which indicate a strong lens: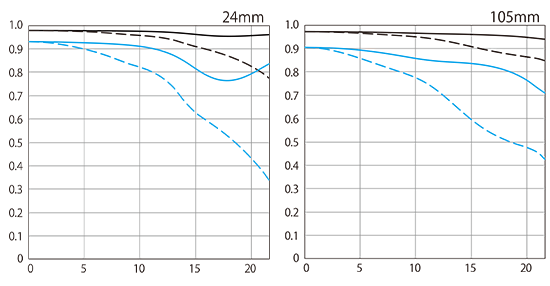 Product Photos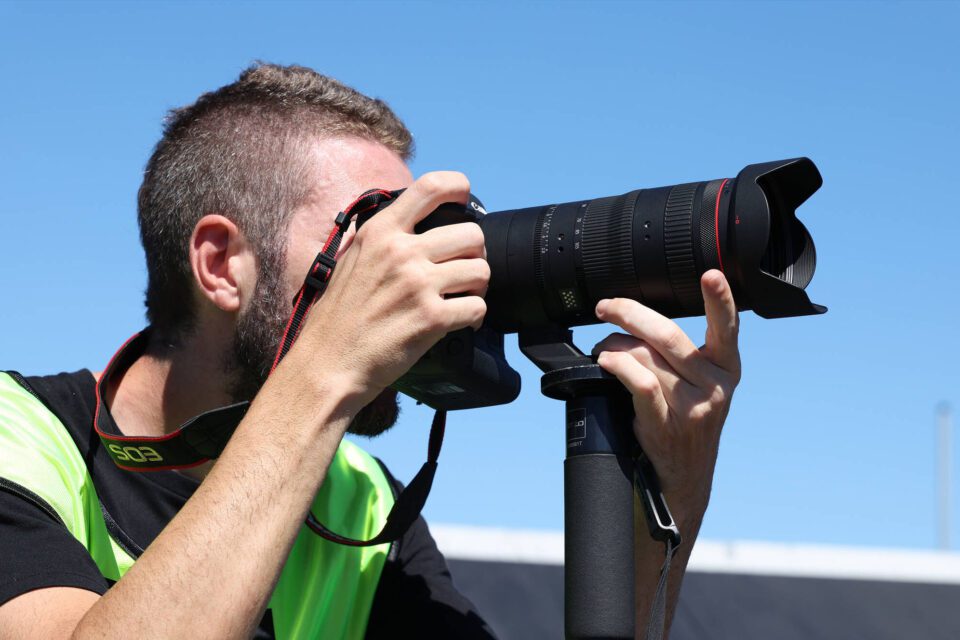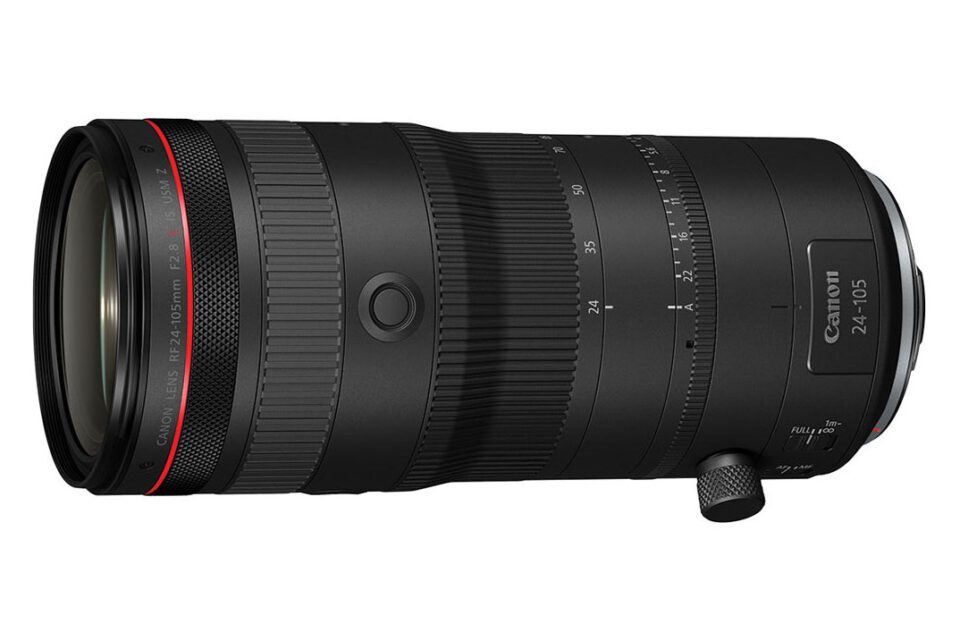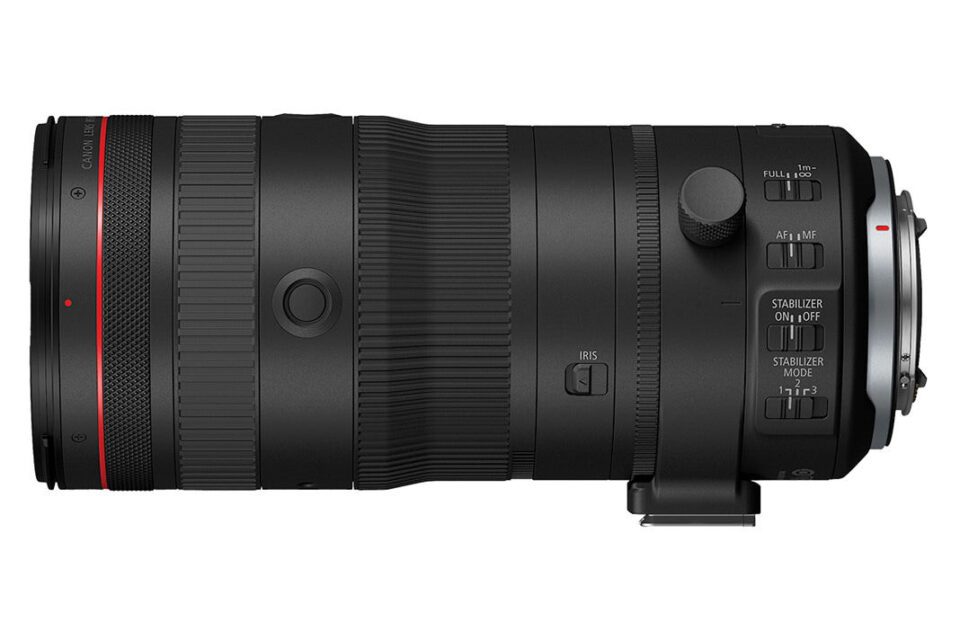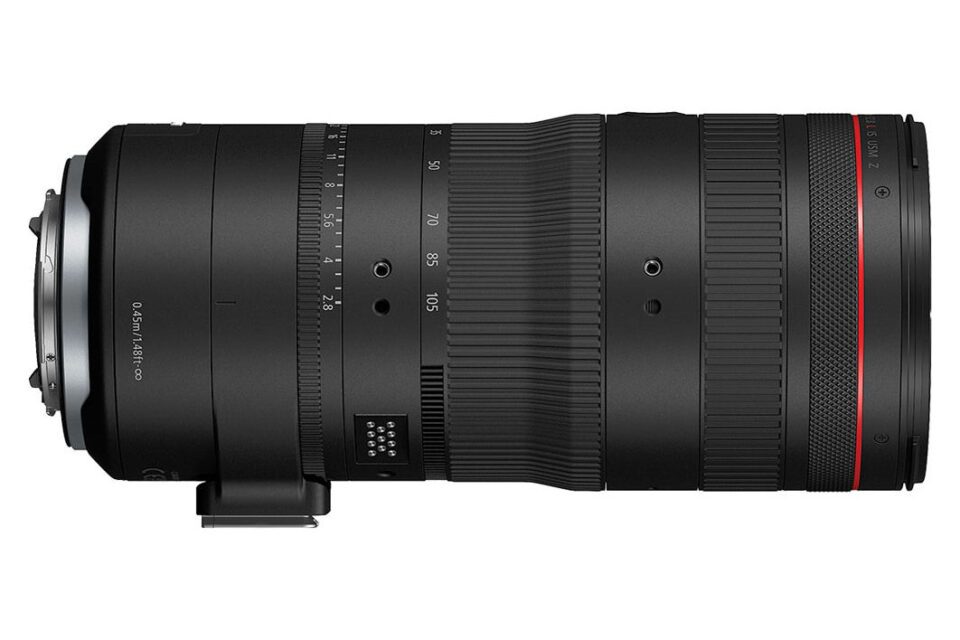 Analysis
What more is there to say, other than this is the new holy grail midrange zoom? It's huge, expensive, and packed with Canon's best features. I expect it to be optically excellent based upon the supplied MTF charts, which make it look a bit better than Canon's current RF 24-70mm f/2.8 L.
Many of the 24-105mm f/2.8 L's most unique attributes are its video features. The lens has a clickless aperture ring (though only compatible for video, not stills, for now), power zoom compatibility, minimal focus breathing, a parfocal design, and minimal shifts in lens balance while zooming – ideal for working on a motorized gimbal. It's certainly a hybrid lens at heart.
Although the lens's high price, size, and weight will keep it relatively niche, I can see a lot of event and wedding photographers drooling over this lens. It could be a true one-lens solution for a lot of situations, superseding the dual-camera kits that many event photographers use. Plus, the weight and price look a lot better if it can replace a second camera 🙂
Canon has really been putting a lot of effort into unorthodox lens designs with their mirrorless system, and I'm a fan. Lenses like this one, the 28-70mm f/2, 600mm f/8, 800mm f/11, 10-20mm f/4, and others are unique designs that we hadn't seen for their DSLR system. I personally can't wait to test the 24-105mm f/2.8 L both in the field and in the lab for an upcoming review.
Sample Photos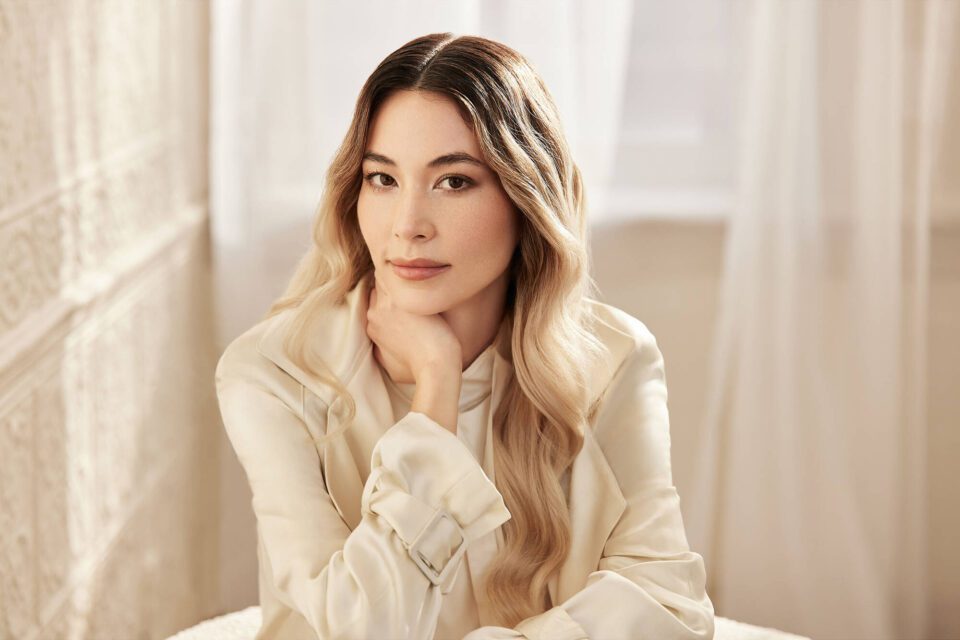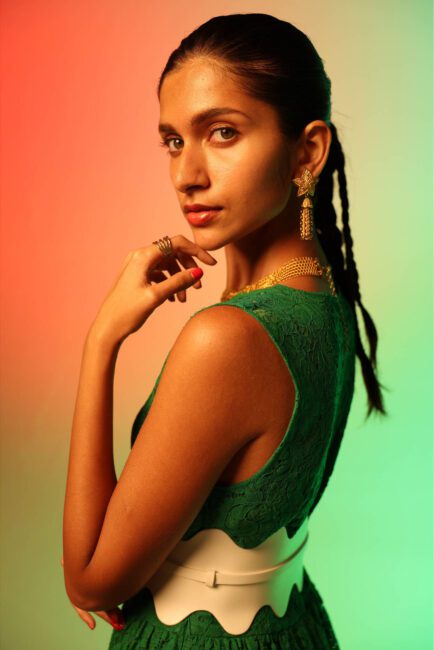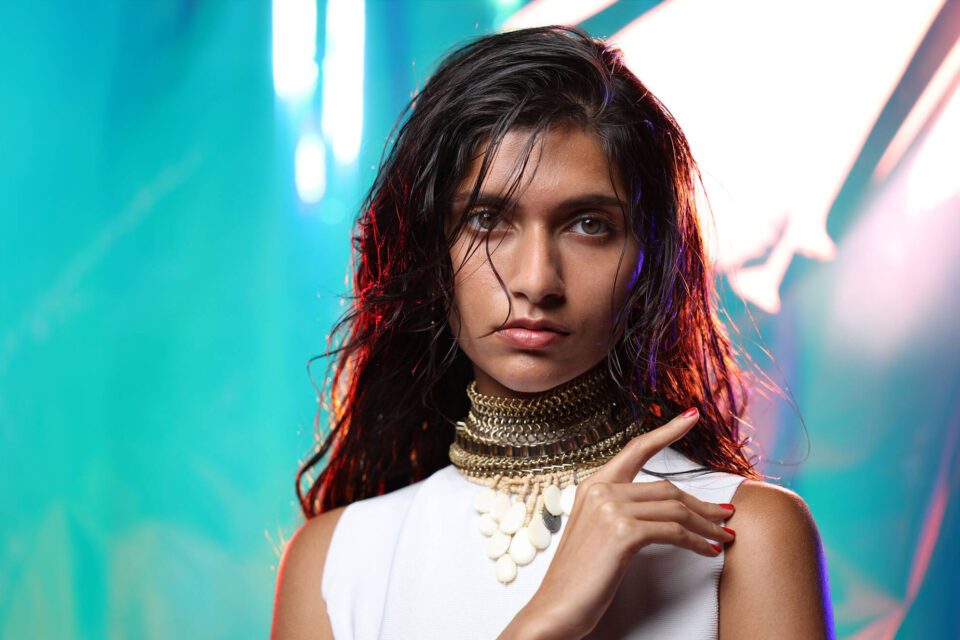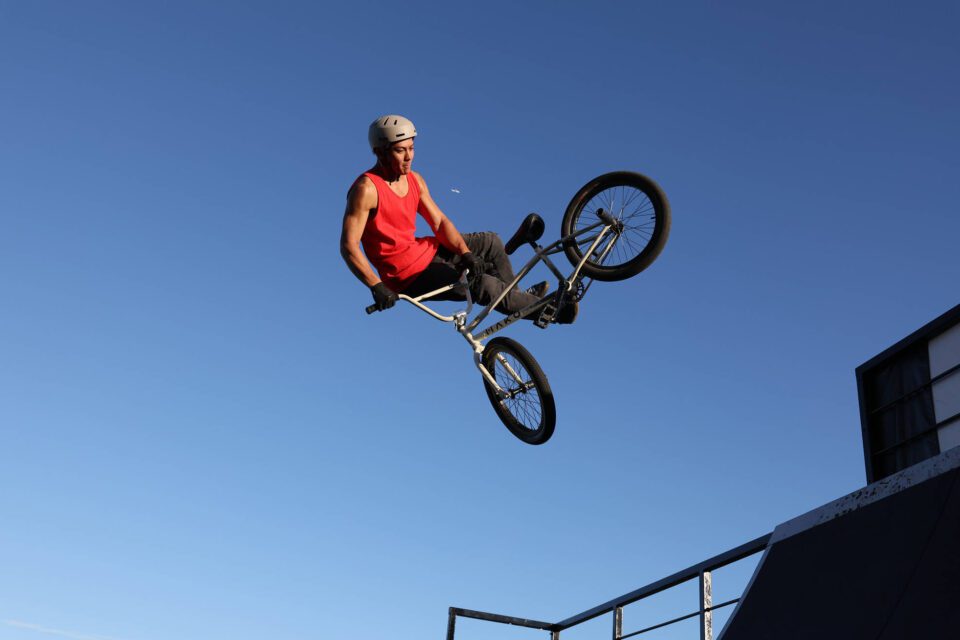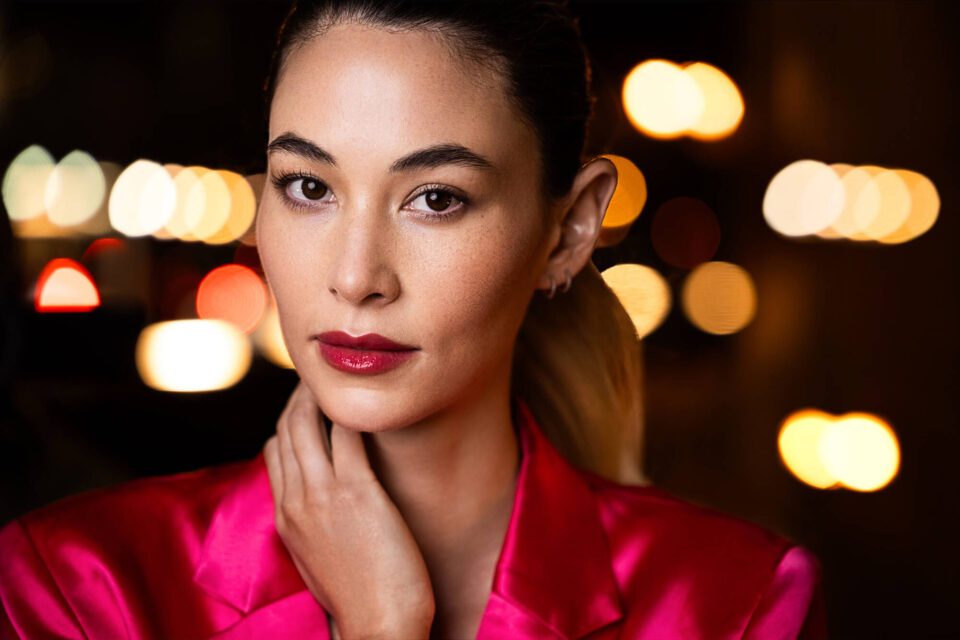 Pre-Order
The Canon RF 24-105mm f/2.8 L is expected to ship December 14th for a price of $2999, just in time for Christmas. The two power zoom adapters (one with USB-C and one with a 20-pin connector) will ship sometime next spring for $999 and $1299 respectively.
If you want to pre-order this equipment, you can support Photography Life through our affiliate links with B&H below at no extra cost to you:
Press Release
CANON INTRODUCES THREE NEW LENSES, ENHANCING STILL PHOTOGRAPHY AND VIDEO PRODUCTION FOR ANY SKILL LEVEL
MELVILLE, NY, November 2, 2023 – Photographers aiming to get a powerful, ultra-wide angle shot, or looking for a superb zoom range, can improve their images with three new lenses announced today by Canon U.S.A., Inc., a leader in digital imaging solutions. The RF-S10-18mm F4.5-6.3 IS STM, the RF24-105mm F2.8 L IS USM Z, and the RF200-800mm F6.3-9 IS USM lenses can benefit a wide range of users — from beginners all the way to working professionals.
The RF-S10-18mm F4.5-6.3 IS STM lens offers users of APS-C sensor size EOS R-series cameras an ultra wide-angle zoom, helping create strong still images and video. It is an ideal lens for vloggers, travelers, and general shooters. Beginners in video and still photography can make good use of this lens, as well as the more advanced pros. Key features include:
10–18mm ultra-wide zoom (equivalent to 16-29mm on full-frame camera).
Image Stabilization, for even greater hand-held sharpness and video steadiness.
Compact and lightweight design, making it an excellent choice for travel.
A new optical design, optimized for RF lens mount and APS-C sensor size.
An affordable price tag for those just stepping into ultra-wide video and still imaging.
Still and video professionals who want a single lens that can handle most tasks with low-light capabilities will find what they're looking for with the RF 24-105mm F2.8 L IS USM Z. This is the world's first 24-105mm focal length lens combined with consistent f/2.8 maximum aperture, offering true portrait-length telephoto coverage resulting in sharp images. High-end photographers, photojournalists, and video content creators can utilize this lens' other features that include:
Constant overall length when zooming.
Manual aperture ring for video use.
Optimized optics for high-level video.
Image stabilization.
A new Power Zoom Adapter will also be available for the RF 24-105mm F2.8 L IS USM Z lens, an optional accessory for super-smooth zooming during video operation. This detachable device allows for more natural movement when zooming in and out, and easier control for solo camera operators. A standard version of the Power Zoom Adapter will be available, as well as a 20-pin port version to support zoom and focus demands. The firmware updates that will be available in early December for the EOS C70 and EOS R5 C cameras will add support for the RF24-105mm F2.8 L IS USM Z lens.
Last, but not least — nature, wildlife, and outdoor sports shooters will find the RF 200-800mm F6.3-9 IS USM super telephoto zoom lens a great tool to take crystal-clear images of action at a distance. This lens is lightweight and easy to hold in your hand, allowing most users to carry it to help capture a range of subjects, whether it's a still image of a landscape, or video of a moving target. Unique features of the RF 200-800mm F6.3-9 IS USM lens also include:
Up to 800mm focal length.
Up to 5.5 stops image stabilization.
Compatible with optional Canon RF 1.4x and 2x tele extenders.
Weather-resistant design.
Rotating tripod mount.
Price & Availability
The new RF-S10-18mm F4.5-6.3 IS STM, the RF24-105mm F2.8 L IS USM Z, and the RF200-800mm F6.3-9 IS USM lenses are expected to be available in December for estimated retail prices of $329.99, $2,999.00, and $1,899.00, respectively. The two versions of the Power Zoom Adapter for the RF24-105mm F2.8 L IS USM Z will be available Spring 2024 for an estimated retail price of $999.99, and $1,299.002 for the version with the 20-pin port. For more information, please visit usa.canon.com.