A pregnant female body is a perfect example of raw and natural beauty.
Pregnancy is not only a physical but also a spiritual journey. Maternity boudoir photography is an excellent way to freeze the moment and capture this special journey to praise nature's wonder.
What Is Pregnant Boudoir Photography and Why You Should Do It
A pregnancy boudoir is all about highlighting the beauty of a pregnant female body. Like in standard boudoir photography, the model is photographed in lingerie, naked or with very light clothing.
There are many reasons to have a boudoir maternity shoot. Women often start to feel more comfortable about their bodies when they go through pregnancy. They realize how beautiful and magical the female body is to grow another human life.
Often, pregnancy makes women feel more sensual and feminine. This is because their body grows more curves, and it produces more hormones. I have met many pregnant women who have never felt as sexy and comfortable in their bodies as during pregnancy.
It's no surprise that they decide they want a professional photographer to turn this magical period into beautiful photographs. They want to remember what becoming a mother felt like.
However, there are women who start to feel uncomfortable in their bodies during pregnancy. Body parts get bigger, swollen and stretched. There is often extra hair growth. Not to mention the mood swings caused by hormones.
For these ladies, it is even more important to take part in a boudoir maternity shoot. They can learn to love their new body and transform the way they look at themselves.
For a boudoir photographer, it is always wonderful to see how people change the way they feel in their bodies during a boudoir session. It feels even better when this happens to a pregnant lady, and she starts to connect with her natural feminine side.
Celebrating the wonder of a female body, the changes it goes through and boosting the clients' self-esteem are all reasons you should offer boudoir maternity photography. Plus, you will be creating lifetime memories for the soon-to-be family.
The best time to take boudoir maternity pictures is between the 30th and the 36th week of the pregnancy. This is the time period when every pregnant woman has a visible baby bump. However, keep in mind that every female body is different and changes at a different pace.
Get to Know Your Client to Make Her Feel More Comfortable
The first essential thing is getting to know your client before the boudoir session. This can be a friendly meeting a few days before or even right before the session. The aim is to get your client comfortable and help her trust you.
Even those who are very confident about their body can feel awkward when they have to undress in front of a stranger. Imagine clients who are terrified of showing their pregnant body.
Find ways to ease the mood. Let your client get to know you, show a few photos from your portfolio. Ask her about her favourite body part and what position she feels most comfortable in. Ask what she thinks about her pregnant body and the changes.
Getting to know your client will allow you to know what body parts to focus on. It also makes it easier to create a comfortable environment.
Ask for Simple Outfits to Keep the Attention on the Body
One of the clients' most frequently asked questions is about the outfit. 'What outfit and lingerie should I bring for the boudoir shoot?'
The answer is whatever the client feels comfortable wearing. Lingerie, a button-down shirt, a plain T-shirt and pyjamas always work well.
You should ask for simple outfits, so they don't draw the viewer's attention away from the body.
There are a few pieces of lingerie that are designed for a tight and skinny female body. Even if a pregnant body has wonderful curves, there are lingerie items that don't fit the whole maternity atmosphere.
The more simple the outfit, the better. Feel free to use bedsheets, light textiles and scarfs. If your client feels comfortable about being naked, go for that option.
Direct Your Model's Poses to Make the Belly Look Good
Let's be honest; a baby bump can look wonderful and awkward, depending on the angle. For a fun family shoot, a belly that resembles a watermelon is perfect. But for a pregnancy boudoir session, you don't want the belly to look weird or ridiculous.
Instead, you want to highlight it's beautiful round shape. You also want to convey the message that a miracle is growing inside it. All you have to do is direct your model's poses.
As a photographer, you are not only taking images. You are also making sure that the model looks amazing in the final photos. Pregnant ladies often have no idea how to position themselves to be comfortable and look good at the same time.
Help them with posing ideas. You can ask them to lay down on their back and place their hands on their belly. Or you can ask them to sit cross-legged and hold their belly from below.
It's important to find poses that look not only great but also suit pregnant women. You don't want your clients to feel physical pain during a session.
Use Simple Props that Fit the Maternity Theme
If you decide to choose props for the boudoir maternity session, make sure to use objects that fit the theme. Baby shoes, baby clothing or even flowers are excellent choices. Toys for the baby or congratulating balloons are also fine.
But don't go for props that are too erotic or out of context. They can confuse the viewer and kill the mood of the photos.
Focus on the Curves and Shapes to Highlight the Beauty of Maternity
Pregnant ladies have beautiful curves that you should highlight in your photographs. You should focus on the belly, the breast and the thighs to emphasise femininity.
You can highlight the curves and shapes in many ways. You can choose to focus on them and keep the rest of the body blurred.
You can also use studio or natural light to brighten up the curves. Or you can use a backlight and photograph silhouettes. The curves and shapes will pop out in a very sensual way.
Include the Other Parent to Show Emotional Connections
Pregnancy is not only about one parent. It is about both of the parents being on the journey of becoming a family. Include the other parent in photos as well.
You can capture full-body images or focus only on the details. For example, the father can put his hands on the bare belly of the mother. It's almost like taking a family portrait, with the child inside the belly.
Including the other parent is a beautiful way to show the love and intimacy between the couple. Pregnancy is a big change for both of them. I always feel touched to see how the partner of a pregnant woman accepts and loves her body no matter the changes.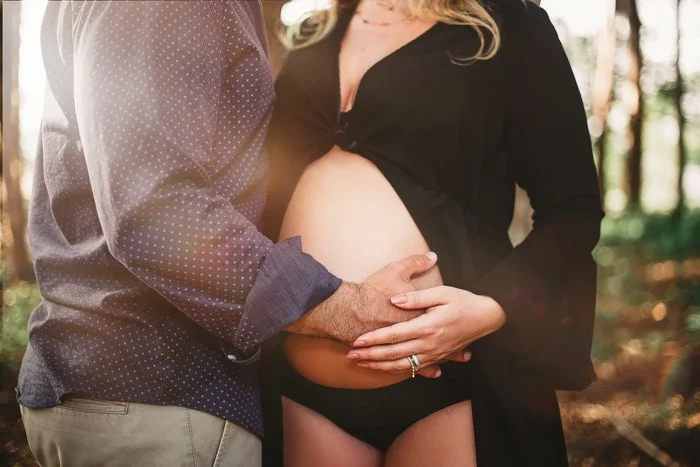 Capture Your Client at Home to Create More Intimacy
Photographing clients in a studio is comfortable for you. But the unfamiliar and sterile environment might make your client feel uncomfortable.
You can much more intimate photographs in your client's home. You can also tell the story of a mother preparing the nest for the arrival of the child.
Plus, you can use locations and props that have personal and emotional importance. Therefore, the results will be even more meaningful.
Try Black and White Boudoir Maternity to Keep it Simple
You don't need to limit yourself to colourful photographs. Black and white pictures can be more powerful and focused than the colourful versions.
Thanks to the lack of colours, b&w photographs allow you to focus more on the subject. Moreover, capturing models in black and white allows you to highlight textures and emotions.
Take Photos Outside to Highlight the Natural Beauty of the Mother
Pregnancy is such a natural state that maternity shoots often take place in nature. Head to the nearest park, beach or forest and take boudoir picture there. If you want to make sure nobody is around, use your or your client's garden.
A pregnant woman, naked in nature paints a very idyllic photograph. The scene highlights the raw beauty of the mother. It also gives the impression of being in Paradise.
Personalise the Photoshoot to Turn it Into a Lifetime Memory
As a photographer, you are taking pictures to freeze time and turn the moments into long-lasting memories. Moreover, you are providing an experience with your boudoir sessions.
Women learn to accept and love their changing body. They start to connect with their motherly instincts. They also connect deeper with their baby and share intimate moments with their partner if they are present.
Boudoir sessions are not only about the photographs. They are about the transformation that happens during the shoot. Moreover, they are always about the client and how they feel during the event.
There is no one-fits-all approach in this photography genre. You need to tailor the experience to fit the personality of your client. Fluffy and cute props might fit the maternity theme. But if your client has a motorbike and wants to pose with it, let it happen.
At the end of the day, they are here for the experience and the memories.
Conclusion
Maternity boudoir captures the most important and beautiful phase of a woman's life. Being able to grow a tiny human is a miracle, and the female body deserves every appraisal.
If you do it right, you are not only providing photographs to hang on the wall. You are offering a unique experience and long-lasting memories for your clients.
Use our ideas to make the most out of your pregnancy boudoir sessions.